Mikey & Mel's Famous Deli Our Story
Welcome to Mikey and Mel's, a living tribute to two great men who knew and loved a great deli experience. Our dad, Mikey and grandfather, Mel were deli "regulars," dining at their favorite Cleveland, Ohio places.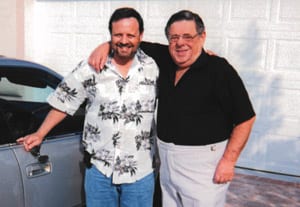 They savored juicy pastrami and corned beef, amazingly fresh pickles and intensely huge deserts. Their daily deli lunches were times to conduct business, strike deals and make friends. We often joined our dad and grandfather at the deli table. We remember the sights, smells and sounds of our favorite local deli–from the simple comforting decor to the aroma of deli meats and sour pickles. We also recall the brash and snarky staff.
While we will always miss Mikey and Mel, we've decided there's no better way to pay homage to two great men than by opening an old fashioned deli named for them. We are proud to invite you to enhance your own deli traditions here at Mikey and Mel's. We promise to serve iconic dishes made with the finest fresh products served in legendary portions made by true "deli people."
Serving up Jewish deli classics with Aaron Magden
The Jewish Times.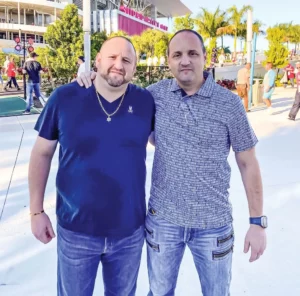 The Jewish-owned deli has always been a staple of Jewish communities across the United States, offering a space for local Jewish people to gather and enjoy deli staples like pastrami, pickles and knishes. For deli owners, the increasing price of ingredients and the embracing of more trendy food by health-conscious individuals has made it difficult to stay afloat. Ted Merwin, the author of "Pastrami on Rye: An Overstuffed History of the Jewish Deli," stated in a 2021 CNN article that the number of Jewish delis in New York City has shrunk from over 1,500 to 20 since their peak in the 1930s.
But in Fulton, Aaron Magden, 43, is determined to keep the Jewish deli tradition alive. He wants to show that there is still a space for them in the increasingly competitive restaurant market.
Together with his brother Harley Magden, Aaron Magden runs Mikey & Mel's Famous Deli, named for the brothers' father and grandfather. The restaurant is built upon the memory of the Jewish delis that the Magden family frequented while growing up in Cleveland.
"We've always been deli guys," Aaron Magden said. "We spent time with our father and grandfather, always going to various delis around Cleveland. We would rather go out to get corned beef sandwiches than a big steak."
Read the full article here.