Mikey & Mel's Famous Deli Our Story
Welcome to Mikey and Mel's, a living tribute to two great men who knew and loved a great deli experience. Our dad, Mikey and grandfather, Mel were deli "regulars," dining at their favorite Cleveland, Ohio places.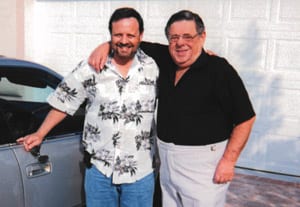 They savored juicy pastrami and corned beef, amazingly fresh pickles and intensely huge deserts. Their daily deli lunches were times to conduct business, strike deals and make friends. We often joined our dad and grandfather at the deli table. We remember the sights, smells and sounds of our favorite local deli–from the simple comforting decor to the aroma of deli meats and sour pickles. We also recall the brash and snarky staff.
While we will always miss Mikey and Mel, we've decided there's no better way to pay homage to two great men than by opening an old fashioned deli named for them. We are proud to invite you to enhance your own deli traditions here at Mikey and Mel's. We promise to serve iconic dishes made with the finest fresh products served in legendary portions made by true "deli people."